America, your veterans would like to make a proposal: Make August 31st a "National Day of Remembrance" for those who served in Afghanistan
Why should America unfurl Old Glory on August 31st? Well, travel through time with me. I was an eyewitness to history at age seven.
Dad was a newsman for over forty years. He taught his seven kids "The pen is mightier than the sword," in his calm and measured manner. And his press pass yielded the marvel of any Amazing Hypno-Coin.
I viewed life through the wonder of newsprint. Dad waved his magic pass with open sesame results. It ushered his brood from Disneyland, to the first BART ride, and I sampled every new ice cream that was fit to print. I was seven January 23,1972 when dad's enchanting pass put me front and center to a very profound moment in American history. San Mateo, California, hosted America's only homecoming parade for troops returning from Viet Nam. We packed Central Park's baseball field as the soldiers of the 101st Airborne marched in.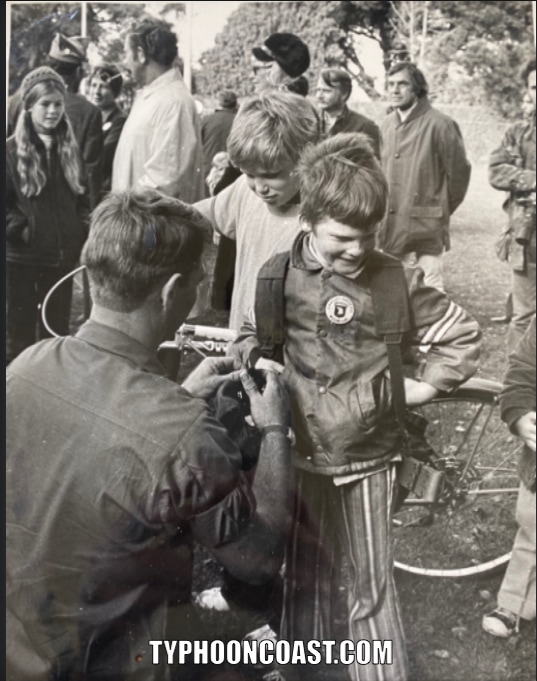 I made the front page when a trooper broke ranks. He took a knee, and, unwittingly, knighted me with his field harness and a gruff comment about being tired of war. I'll never forget his perfume of cigarette smoke and olive green sateen.
The perfume of the soldier's soul lingered in my life. In 1991 I came home from Operation Desert Storm to ticker-tape parades. Ten years later, my youngest brother served (ironically, attached to my old platoon) as a machine gunner in Iraq. My nephew survived two tours as a machine gunner in Afghanistan. My son is a machine gunner overseas. All Marines.
I caught the writing bug from pops. Dad was right… a stroke of the pen is more enduring than war. Today I help post 9/11 veterans at country music sensation Zac Brown's Camp Southern Ground. America has an obligation to honor service and sacrifice, and care for veterans upon their return home. Read more about that in my article "Three Points of Contact."
On August 31st our troops will come home from Afghanistan. As of today, there will be no parades. Join me in an American movement to make August,31st a day of remembrance. Please put your flag out.
Join the gratitude and share this with your friends, family, and loved ones.